OUR PROCESS
At Nothing Bundt Cakes our goal is to create a cake that not only reminds you of home, but also opens you to a new world. And while that's no easy request, the hand-crafted recipes of our founders, Dena Tripp and Debbie Shwetz, are more than up to the task. Each recipe only uses the purest ingredients; fresh eggs, real butter, and real cream cheese, all to bring you bundt cake perfection. Enjoy.
What We Offer
8" Cakes
Serves 8-10
Decorated or frosted in a box
10" Cakes
Serves 18-20
Decorated or frosted in a box
Bundtlets
Single Serving
Bundtlet bundles sold by the dozen
Bundtlet Towers
1, 2 or 3 gift-wrapped in cellophane
Bundtinis
Bite-sized by the dozen
Our bakeries offer charming gifts, such as greeting cards, candles, cake utensils and serving platters to complement your celebration. These items are available in-bakery only.
Contact your local bakery for available items.
Frosting
We're famous for the thick frosting petals that adorn each of our cakes. Our signature frosting is made with velvety cream cheese and real butter. For a lighter touch, choose our drizzle frosting.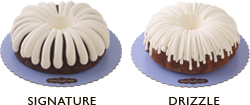 Food Allergen Note
Our cakes may contain wheat, dairy, eggs, soy, tree nuts and peanuts.