Founders Debra Shwetz and Dena Tripp started Nothing Bundt Cakes in Las Vegas, in 1997, simply to please their family and friends. Needless to say, thousands of other people became just as excited about their delicious cakes. By using the finest ingredients, handcrafted recipes and imaginative decorations, Nothing Bundt Cakes has grown into the warm brand that it is today.
We celebrate the very heart of true hospitality where all are welcome, and no one is a stranger. Each thoughtful detail of the experience, from the heartfelt welcome at the door to remembering a guest's favorite flavor, has been naturally embraced at Nothing Bundt Cakes. We bring the same spirit into our relationships with our franchisees. We invite a very special kind of person to become part of our Nothing Bundt Cakes family. We know that qualities like sincerity, warmth and a little humor will take you far when you're with the right people. Professional and genuine—this is the best of both worlds.
Our Difference
Nothing Bundt Cakes is a unique, yet successful bakery franchise concept with over 500 bakeries across the U.S. and Canada. As the nation's largest specialty cake company, we Bring the Joy™ with an incomparable cake, which, when given or received, leaves a lasting impression both on presentation and taste. We compete by offering a delectable, luxury product at an affordable price.
We also grant a unique experience to our franchisees with our positive work environment and family friendly work schedules.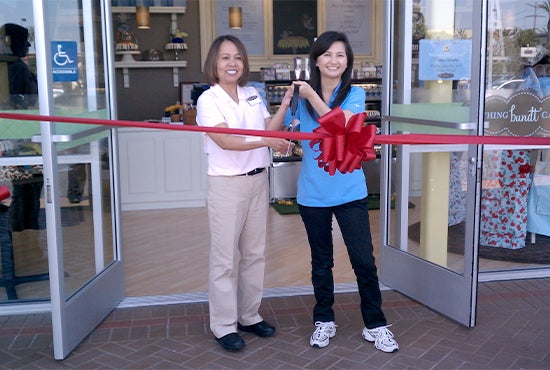 Nothing Bundt Cakes is looking for owner/operators or investors with solid operators in mind who are ready to jump at the opportunity of joining our growing and successful family of franchisees and possess the following:
Ability to lead, yet follow a system
Financial capability
A strong belief in the Nothing Bundt Cakes product
Business Management/HR/Marketing experience
Passion for delighting guests
If you feel that you meet the ideal characteristics above, we would love to get to know you and find out if we are a good fit for each other. Please note, prior restaurant/baking experience is NOT required.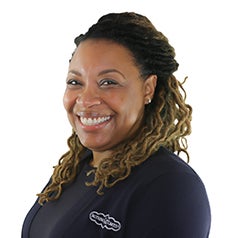 I always tell people I fell in "love at first bite" with Nothing Bundt Cakes. The level of support we consistently receive as bakery owners has literally been the "frosting" on the cake. I see firsthand all the ways in which this brand continues its commitment to our success. From business innovations to structured systems that evolve based on our needs, they are always striving to give us a leg up. And as bakery owners, we are also committed to each other's shared success. That is something very special about our brand.
Verelyn Gibbs Watson
Gaithersburg and Bethesda (Maryland)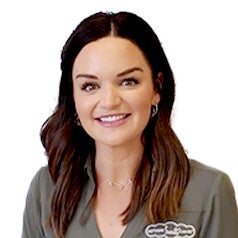 As an owner, we are committed to bringing JOY to our community every single day! We support all our local businesses and donate to frontline workers, nurses, hospitals, teachers, police and many more! Nothing Bundt Cakes is truly so much more than just cake. It's sharing, it's happiness, it's COMMUNITY—and putting a smile on someone's face when they need it the most!
Sadie Smith
Irving and Hurst-North Richland Hills (Texas)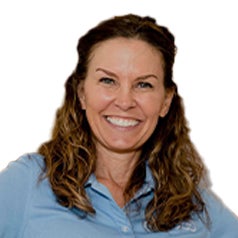 The assistance we have received from both the Nothing Bundt Cakes support team and other bakery owners has exceeded our expectations. It's been incredible! Everyone involved in this organization has been invested in our success, and we are eager to pay it forward to future bakery owners.
Lynn Ricciardi
The Villages (Florida)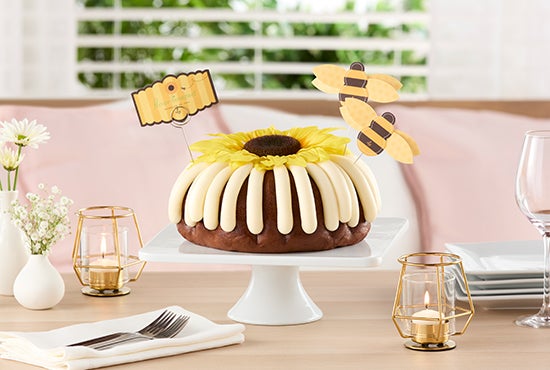 The total initial investment necessary to acquire one's dream of operating a Nothing Bundt Cakes bakery ranges from a cost of $483,600 to $699,700.
Initial franchise fee of $35,000
Grand Opening allocation $5,000
Build Out
Signage
Equipment
Initial Inventory
Working Capital
We collect a 6% royalty and 5% for marketing on a weekly basis
The range varies depending on construction cost and level of working capital injected.
Franchise candidates and their partners/investors must have a combined liquid capital of at least $250K and a combined net worth of at least $750K to qualify financially.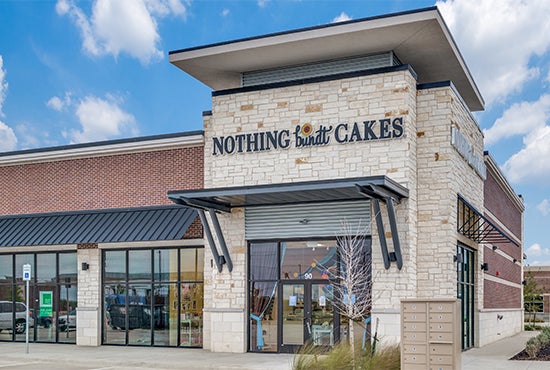 If Nothing Bundt Cakes is the right opportunity for you, we would love to get to know you! Contact us to submit an inquiry today. This is the first step to becoming a franchisee, and it will get you instant access to our virtual brochure: The 'Hole' Picture, which offers detailed information on our franchise opportunity.
Our approximately 30–45-day education process will include the following steps and requirements to start a bakery:
Complete an inquiry and personal profile so we can learn more about you
Speak with our Franchising Team to determine available markets in your area and to learn more about our brands culture and values
Complete the non-disclosure agreement and Nothing Bundt Cakes application
Receive a formal introduction to Becoming a Bundt Boss and understanding our business model
Review our Franchise Disclosure Document
Speak with our existing franchisees to hear their experience in our brand
Meet our Senior Support Team (Discovery Day)
Nothing Bundt Cakes offers terrific ongoing support during this investigation process. Whether we decide to work together or not, we will be committed to supporting you in your discovery of Nothing Bundt Cakes.
---
Franchise Times: Top 10 Franchises to Buy
2023
Franchise Times: Fast & Serious List Smartest-Growing Franchises
2016-2023
Franchise Times: Top 400/500
2020-2023
Inc: Inc. 500
2016-2018, 2022-2023
Franchise Business Review: Top 200 Franchises
2016-2023
Franchise Business Review: Top Food Franchise
2016-2023
Franchise Business Review: Most Profitable Franchises
2020-2021
Franchise Business Review: Top Franchises for Women
2020-2021
Franchise Business Review: Top Franchises for Brand Culture
2020-2023
Franchise Business Review: Top Franchises for Veterans
2020-2021
Yelp: Top 50 Most Loved Brands
2023
Entrepreneur: Franchise 500
2020 - 2023
Entrepreneur: Best Franchise Brands
2020-2021
Entrepreneur: Top Food Franchises
2020-2021
Entrepreneur: Fastest-Growing Franchises
2020-2022